Titanium Pipes & Tubes
ASTM B338 Seamless Pipes Supplier, Titanium Seamless Pipes, Titanium Cold Drawn Pipes, Titanium Tube Manufacturers, Titanium Alloy ASTM B338 Welded Pipes, Titanium Alloy Hot Rolled (HR) Pipes, Titanium Heat Exchanger Tubing, GR. 2 Ti ERW Pipe, Titanium Cold Rolled (CR) Pipes, Titanium Tubing Suppliers, B338 Titanium Gr 4 Welded Pipe in Mumbai India.
Titanium pipes tubes are highly demanded products that are manufactured using top-notch quality of raw material and precisely latest technology. The pipes and tubes are used in different applications where the main aim of the producers to produce high quality of products. Furthermore, these pipes and tubes offer excellent performance when used at high and elevated temperature. The titanium alloy tubes and pipes are available in different types of specifications, thickness, and dimensions. They are further known best for their exceptional features and properties.
Titanium Pipes & Tubes exporter, Titanium Pipe Manufacturers, Titanium Alloy Fabricated Pipes & Tubes, Titanium Round Pipes, Titanium Cold Drawn Pipes, Titanium Hollow Pipes & Tubes, Titanium Gr7 Welded Tubes, Titanium Pipe Suppliers, Titanium Alloy Steel Pipe, Titanium Gr9 Seamless Tubes, Titanium Piping, Titanium Gr 5 Tubing, Titanium Gr 12 ERW Tubes Supplier.
Features of titanium pipes tubes
• High density
• Tensile strength
• Corrosion resistance
• Good Weldability and Formability
• Withstand at high temperature and environment
While manufacturing these pipes and tubes, both national and international standard specification is covered that even includes specifications like:
Size of pipes- ½ NB to 24 NB
Size of tubes- 1mm OD to 254mm OD
Thickness- 0.1mm to 20mm
Length- single random, cut length & double random
Forms- square, round, rectangle, hydraulic etc
Types- seamless, fabricated, welded, ERW etc
To ensure end product quality, there are various tests done such as:
• Flaring test
• Flattening test
• Radiography test
• Visual inspection
• Marco and micro test
• Third party inspection
• Hardness test
• Wooden cases
All these tests are done under the supervision of experts and for all these tests, various test certificates are approved. At the end, when all the tests are done and pipes tubes are ready for the delivery, they are packed in various packaging material.
Titanium Alloy Seamless Pipes
Titanium Tubing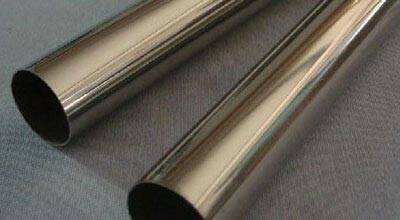 Titanium Alloy EFW Pipes
ASTM B338 Titanium Pipes & Tubes Specification
Standard : ASTM B861, B338, B388, B862 / ASME SB861, SB338, SB388, SB862
Tube Range : 1mm OD upto 254mm OD in Thickness 0.1 to 20mm
Pipe Range : ½"NB to 24"NB in Sch 10s, 40s, 80s, 160s, XXS
Form : Round, Square, Rectangular, Hydraulic Etc
Type : Seamless / ERW / Welded / Fabricated / LSAW Pipes
End : Plain End, Bevelled End, Treaded
Length : Single Random, Double Ranidom & Cut Length
Titanium Alloy Pipes and Tubes Equivalent Grades
| | | |
| --- | --- | --- |
| STANDARD | WERKSTOFF NR. | UNS |
| Titanium Gr 2 | 3.7035 | R50400 |
| Titanium Gr 5 | 3.7165 | R56400 |
Titanium Alloy Pipes and Tubes Chemical Composition
| | | | | | | |
| --- | --- | --- | --- | --- | --- | --- |
| Grade | C | N | O | H | Ti | Fe |
| Titanium Gr 2 | 0.10 max | 0.03 max | 0.25 max | 0.015 max | bal | 0.30 max |
| Titanium Gr 5 | 0.10 max | 0.05 max | 0.20 max | 0.015 max | bal | 0.40 max |
Titanium Pipe and Tube Mechanical Properties
| | | | | | |
| --- | --- | --- | --- | --- | --- |
| Grade | Density | Melting Point | Tensile Strength | Yield Strength (0.2%Offset) | Elongation |
| Gr.2 | 4.5 g/cm3 | 1665 °C (3030 °F) | Psi – 49900 , MPa – 344 | Psi – 39900 , MPa – 275 | 20 % |
| Gr.5 | 4.43 g/cm3 | 1632 °C (2970 °F) | Psi – 138000 , MPa – 950 | Psi – 128000 , MPa – 880 | 14 % |
Weight Chart of Titanium Pipes
NPS
Outside Diameter
Wall Thickness
Weight
Weight
in
mm
in
mm
Sched
kg/Mtr
Lb/ft
1/2″
0.840
21
0.109
2.769
40 STD
1.268
0.851
0.147
3.734
80 STD
1.621
1.088
3/4″
1.050
27
0.113
2.870
40 STD
1.684
1.131
0.154
3.912
80 STD
2.195
1.474
1″
1.315
33
0.133
3.378
40 STD
2.501
1.679
0.179
4.547
80 STD
3.325
2.172
1 1/4″
1.660
42
0.140
3.556
40 STD
3.385
2.273
0.191
4.851
80 STD
4.464
2.997
1 1/2″
1.900
48
0.145
3.683
40 STD
4.048
2.718
0.200
5.080
80 STD
5.409
3.361
2″
2.375
60
0.154
3.912
40 STD
5.441
3.653
0.218
5.537
80 STD
7.480
5.022
2 1/2″
2.875
73
0.203
5.516
40 STD
8.629
5.793
0.276
7.010
80 STD
11.411
7.661
3″
3.500
89
0.216
5.486
40 STD
11.284
7.576
0.300
7.620
80 STD
15.272
10.253
4″
4.500
114
0.237
6.020
16.073
10.790
0.337
8.560
22.318
14.983
6″
6.625
168
0.188
4.775
19.252
12.924
0.203
5.516
20.739
13.923
0.219
5.563
22.318
14.983
0.250
6.350
25.354
17.021
0.280
7.112
40 STD
58.263
18.974
0.312
7.925
31.334
21.036
0.375
9.525
37.285
25.031
0.432
10.973
80 XHY
42.561
28.573
0.500
12.700
48.719
32.708
8″
8.625
219
0.188
4.775
25.233
16.940
0.203
5.156
27.198
18.259
0.219
5.563
29.286
19.661
0.250
6.350
20
33.308
22.361
0.277
7.036
30
36.786
24.696
0.322
8.179
40
42.352
28.554
0.375
9.525
49.216
33.041
0.406
10.312
60
53.085
35.638
0.500
12.700
80 XHY
64.627
43.388
10″
10.750
273
0.188
4.775
31.588
21.207
0.219
5.563
36.689
24.631
0.250
6.350
20
41.759
28.035
0.307
7.798
30
51.002
34.240
0.344
8.738
56.946
38.231
0.365
9.271
40 STD
63.301
40.483
0.438
11.125
71.852
48.238
0.500
12.700
60 XHY
81.530
54.735
0.594
15.088
80
95.969
64.429
12″
12.750
324
0.188
4.775
37.570
25.222
0.219
5.563
43.657
29.309
0.250
6.350
49.713
33.375
0.281
7.137
55.739
37.420
0.312
7.925
61.735
41.445
0.375
9.525
73.824
49.562
0.406
10.312
79.727
53.525
0.500
12.700
97.438
65.415
0.562
14.275
108.966
73.154
14″
14.000
356
0.188
4.775
41.308
27.732
0.219
5.563
48.012
32.233
0.250
6.350
20
54.685
36.713
0.281
7.137
61.327
41.172
0.312
7.925
67.939
45.611
0.375
9.525
STD
81.281
54.568
0.438
11.125
40
94.498
63.441
0.500
12.700
XHY
107.381
72.090
0.625
15.875
132.983
89.278
16"
16.000
406
0.188
4.775
47.290
21.748
0.219
5.563
54.980
36.910
0.250
6.350
10
62.639
42.053
0.281
7.137
70.268
47.174
0.312
7.925
20
77.866
52.275
0.344
8.738
85.677
57.519
0.375
9.525

30

STD

93.213
62.578
0.438
11.125
108.433
72.797
0.500
12.700

40

XHY

123.289
82.770
18″
18.000
457
0.219
5.563
61.948
41.588
0.250
6.350
70.593
47.393
0.281
7.137
79.208
53.176
0.312
7.925
20
87.792
58.939
0.375
9.525
STD
105.144
70.588
0.438
11.125
30
122.369
82.152
0.500
12.700
XHY
139.198
93.450
0.562
14.275
40
155.904
104.666
0.625
15.875
172.754
115.978
20″
20.000
508
0.250
6.350
78.547
52.733
0.282
7.163
88.458
59.386
0.312
7.925
97.719
65.604
0.375
9.525
20 STD
117.075
78.598
0.438
11.125
136.305
91.508
0.500
12.700
30 XHY
155.106
104.130
0.594
15.088
40
183.378
123.110
0.625
15.875
192.640
129.328
0.688
17.475
211.368
141.901
24″
24.000
610
0.250
6.350
94.456
63.413
0.281
7.137
106.029
71.183
0.312
7.925
117.573
18.932
0.375
9.525
20 STD
140.938
64.618
0.438
11.125
164.176
110.219
0.500
12.700
XHY
186.923
125.490
0.625
15.875
232.410
156.028
0.688
17.475
40
255.148
171.293
0.750
19.050
277.401
186.233
30″
30.000
762
0.250
6.350
118.318
79.433
0.281
7.137
132.851
89.189
0.312
7.925
10
147.353
98.925
0.375
9.525
STD
176.731
118.648
0.438
11.125
205.983
138.286
0.500
12.700
20 XHY
234.647
157.530
0.625
15.875
30
292.066
196.078
0.688
17.475
320.817
215.380
0.750
19.050
348.988
234.293
36″
36.000
914
0.250
6.350
142.180
95.453
0.281
7.137
159.672
107.196
0.312
7.925
10
177.133
118.918
0.375
9.525
STD
215.525
142.678
0.438
11.125
247.790
166.353
0.500
12.700
20 XHY
282.372
198.570
0.625
15.875
351.723
236.128

0.688

17.475
386.487
259.467

0.750

19.050
420.576
282.353
42″
42.000
1067
0.312
7.925
206.914
138.911
0.375
9.525
STD
248.319
166.708
0.500
12.700
XHY
33.097
221.610
0.750
19.050
492.163
330.413
48″
48.000
1219
0.375
9.525
STD
284.112
190.738
0.438
11.125
331.404
222.487
0.500
12.700
XHY
377.822
253.650
0.750
19.050
563.750
378.473
0.875
22.225
655.969
440.383
Pressure Ratings of Titanium Tubes
Tube O.D.
(in.)
Wall Thickness of Tube (inches)
.028
.035
.049
.065
.083
.095
.109
.120
Working Pressure (psig)
1/8
7900
10100
1/4
3700
4800
7000
9500
5/16
3700
5400
7300
3/8
3100
4400
6100
1/2
2300
3200
4400
3/4
2200
3000
4000
4600
1
2200
2900
3400
3900
4300
Sizes of Titanium Pipes and Tubes
| | |
| --- | --- |
| Wall | Sizes ( O.D.) |
| .010 | 1/16" , 1/8" , 3/16" |
| .020 | 1/16" , 1/8" , 3/16" , 1/4" , 5/16" , 3/8" |
| .012 | 1/8" |
| .016 | 1/8" , 3/16" |
| .028 | 1/8" , 3/16" , 1/4" , 5/16" , 3/8" , 1/2" , 3/4" , 1" , 1 1/2" , 2" |
| .035 | 1/8" , 3/16" , 1/4" , 5/16" , 3/8" , 7/16" , 1/2" , 16" , 5/8" , 3/4" , 7/8" , 1" , 1 1/4" , 1 1/2" , 1 5/8" , 2" , 2 1/4" |
| .049 | 3/16" , 1/4" , 5/16" , 3/8" , 1/2" , 16" , 5/8" , 3/4" , 7/8" , 1" , 1 1/8" , 1 1/4" , 1 1/2" , 1 5/8" , 2" , 2 1/4" |
| .065 | 1/4" , 5/16" , 3/8" , 1/2" , 16" , 5/8" , 3/4" , 7/8" , 1" , 1 1/4" , 1 1/2" , 1 5/8" , 1 3/4" , 2" , 2 1/2" , 3" |
| .083 | 1/4" , 3/8" , 1/2" , 5/8" , 3/4" , 7/8" , 1" , 1 1/4" , 1 1/2" , 1 5/8" , 1 7/8" , 2" , 2 1/2" ,3" |
| .095 | 1/2" , 5/8" , 1" , 1 1/4" , 1 1/2" , 2" |
| .109 | 1/2" , 3/4" , 1" , 1 1/4" , 1 1/2" , 2" |
| .120 | 1/2" , 5/8" , 3/4" , 7/8" , 1" , 1 1/4" , 1 1/2" , 2" , 2 1/4" , 2 1/2" , 3" |
| .125 | 3/4" , 1" , 1 1/4" , 1 1/2" , 2" , 3" , 3 1/4" |
| .134 | 1" |
| .250 | 3" |
| .375 | 3 1/2" |
Industry We Serve